Di tengah2 kesibukan aku semenjak kebelakangan ni, hampir terlupa nak citer pasal benda yang boleh merehatkan otak. Mana tak, projek aku sokmo postponed. Tensen betul. Tapi nak wat camane, itulah asam garam keja ngan orang. Kalau keja tu boleh disetelkan sendiri, Insya Allah boleh deliver on time. Tapi kalau dah memerlukan kerjasama orang, kena pulak tunggu dia ada masa nak setelkan projek tu. Sabar ajelah.
So kali nih aku nak citer pasal insan2 yang paling aku sayang :)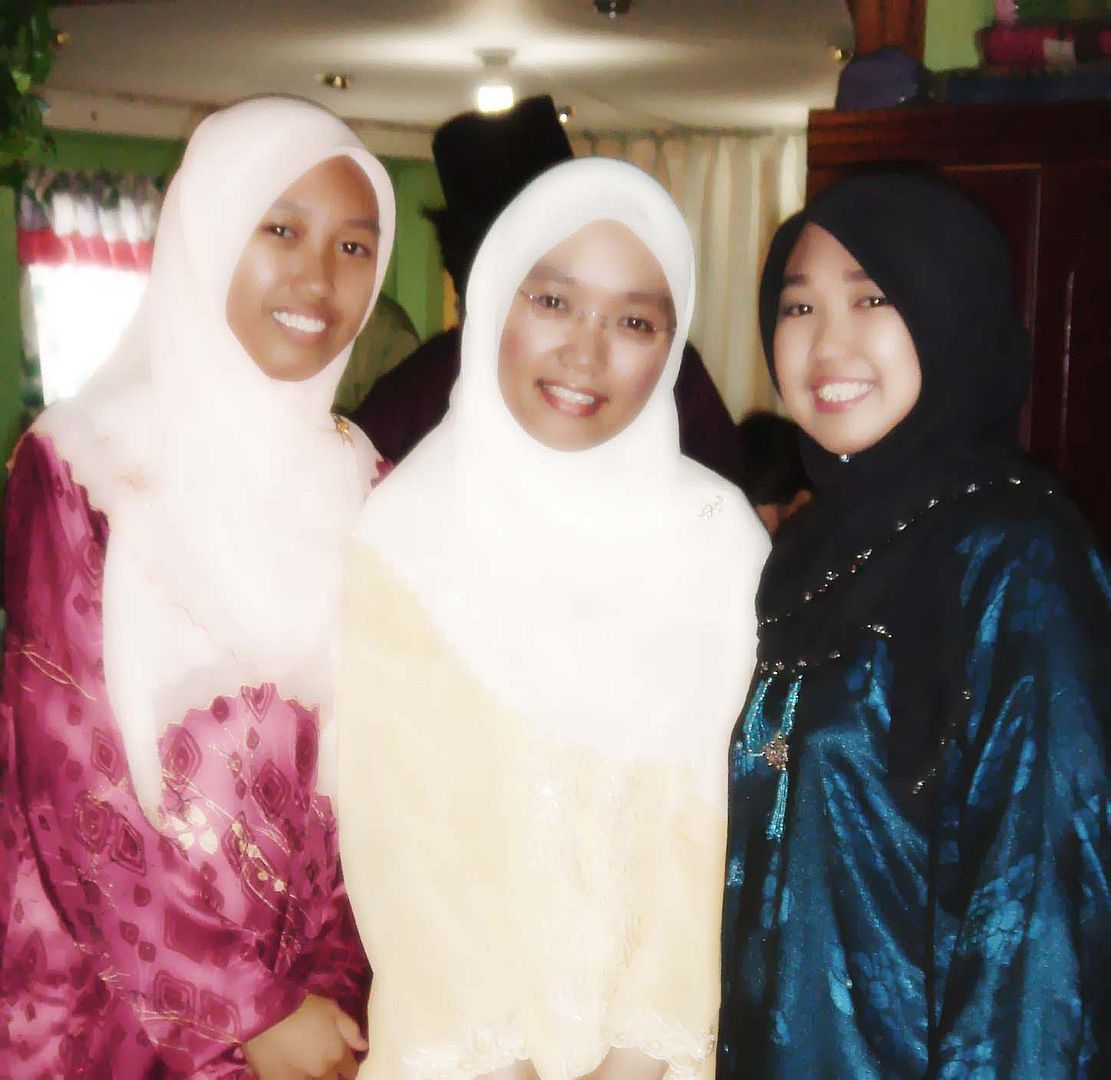 My sisters. These gorgeous ladies flanking me are my lovely sisters. Sorang masih belajar kat sekolah asrama, sorang lagi keje kat Miri. Sekarang ni aku cuma jumpa dieorang tetiap kali raya je. Huhu..! Sebab tu kakak aku selalu mintak aku keja kat sana tapi aku degil. Memang macam tulah pe'el anak ke-2. Degil benor...
P/S: Both my sisters are very much available... ;) Muahaha!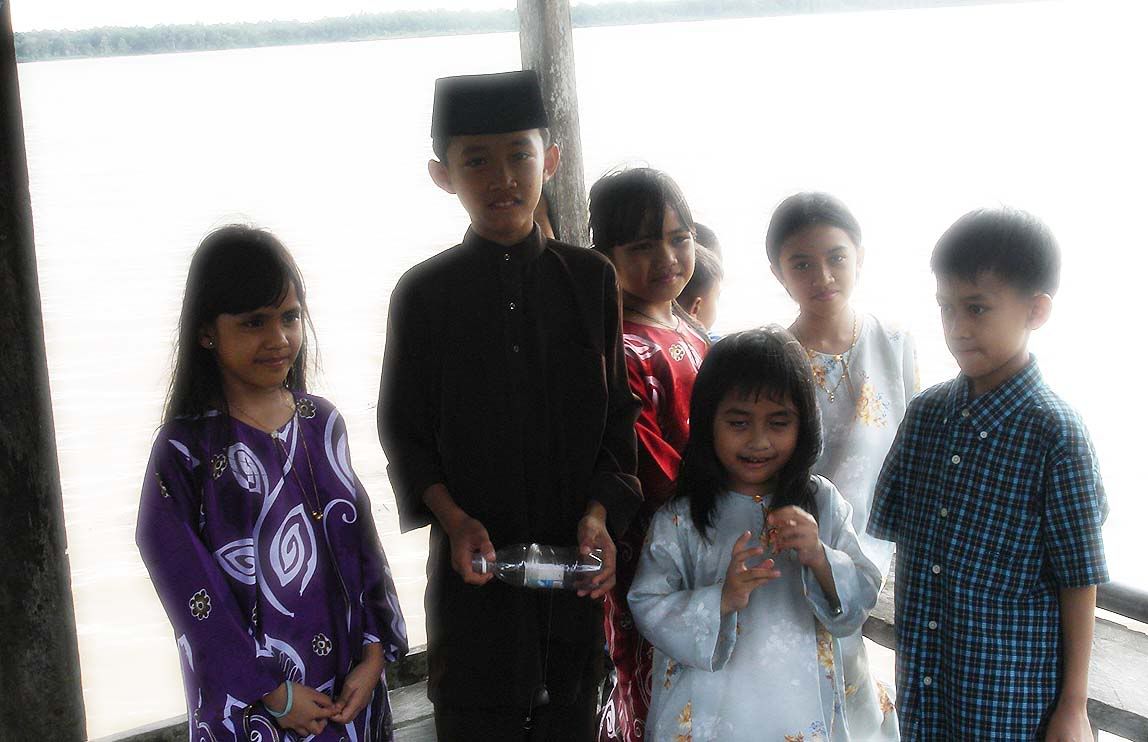 The apple of my eyes, my sweet, little cousins & sisters. Balik kampung je, mesti nak main kat jambatan. Ada2 aje aktiviti dieorang. Bosan2, gi la teman dieorang kat tepi sungai. Hobi dieorang memancing. Hari raya ke-3 tu, adik sedara aku, Min & Zarif dapat 5 ekor ikan sembilang! Excited giler la sumer dieorang. Malam tu, ikan2 tu jadi lauk ikan sembilang masak lemak. Bukan main berselera dieorang makan. Tau ajelah, budak2 kan tak suka makan.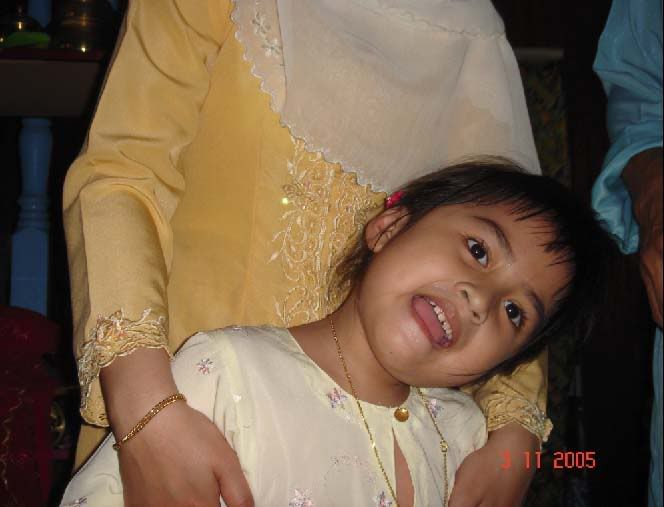 Then, there's cute little Nana. Masa kecik2 dulu, takut ngan orang. Tapi bila dah besar nih, dier manja pulak. Kalau nampak aku, dia lari kat aku dan peluk pinggang. Tengoklah posing manja Nana. Comel, kan? :)
Rasanya, korang mesti dah agak aku sayang kat budak2 kecik :p Dieorang tak complicated macam orang besar, lebih2 lagi cam aku. Muahaha! Kalau kat opis, tak de orang sangka the other side of me (me!) ialah yang lagu nih. Hehe. Masa outstation arituh, sempat lepak rumah Bib. Bib ada anak sedara baru. Nama dia Athirah, 8 bulan. Mula2 aku sampai, Athirah tengok aku ngan mata besar (mata dier memang besar macam mata Bib). Bib angkat anak sedara dier, letak kat pangku aku. Lepas acah2 dier, terus dier tak nak ngan Bib lagi dah! :p Best la gak dapat main ngan baby last week. Cuma nak ada baby sendiri tu yang tak bersedia lagi. Muahaha! Cukup la main ngan baby orang...
Pastu, minggu nih, adik Survivor bawak baby dia, Hariz gi opis. Dah lama tak jumpa Hariz! Kali terakhir, masa dia baru lahir. This time, dier dah besar. Tak takut pulak bila aku dukung dia :) Hariz macam mak sedara dia gak, muka senyum sokmo. Mesti encem bila besar nanti...
Hehe. Harap2 aku pun dapat baby yang cute gak, cam Athirah & Hariz.
'Ainie, kalau u jadik ngan Chairman, nanti mesti anak u cute giler. Mata besar, pipi chubby, rambut ikal, kulit putih...'
... :p